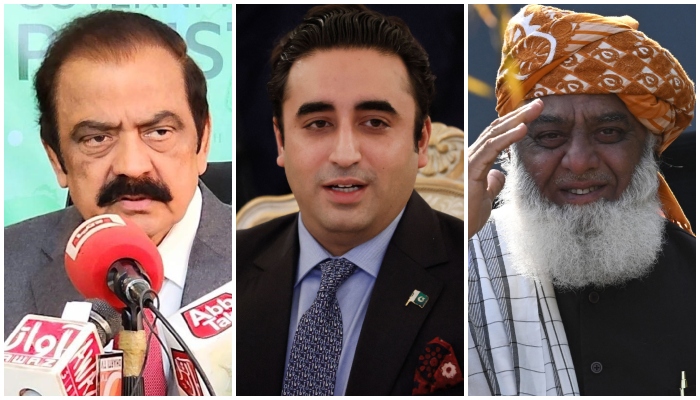 The Pakistan Muslim League-Nawaz (PML-N) and the Jamiat Ulema-e-Islam-Fazl (JUI-F) have taken exception to Pakistan Peoples Party (PPP) Chairman Bilawal Bhutto-Zardari's tirade, asking him to avoid confrontational politics in the run-up to the general elections scheduled for February 8 next year.

The PPP chief in his recent public addresses launched a tirade against the PML-N leadership, calling it "mehangai [inflation] league" and accusing its supremo Nawaz Sharif of receiving preferential treatment from the caretaker government.

Bilawal has also cast doubts on the transparency of the upcoming general elections, claiming that no one would accept the results of the polls if results were manipulated in favour of any political party.
"The PML-N does not want to increase bitterness that's why we are not responding to Bilawal's [criticism] in his own language," Sanaullah said in today's media talk.
Addressing a press conference in Lahore on Tuesday, PML-N senior leader Rana Sanaullah said he would not resort to using Bilawal's language to respond to his criticism, Geo News reported.
Despite adopting anti-PML-N rhetoric, the former security czar said the ex-foreign minister would not be able to woo anti-PML-N voters by "heaping praise" on the PML-N.
Besides Punjab, he said the PML-N would secure a majority from other provinces as well in the upcoming elections.
The PML-N stalwart also emphasised the need for working together for the country's betterment. "We have to work together If the country has to move forward."
Sanaullah said that his party exercised restraint as both parties were allies in the previous coalition government led by the PML-N.
'Country can't afford disputed polls'
Meanwhile, speaking to the media after meeting Nawaz Sharif, Maulana Fazl said his party would not adopt an aggressive stance against the PPP and would maintain contact with other political parties as well.
"There is a difference between the thinking of an elderly person and a child. This difference is visible in the statements of Bilawal," the JUI-F chief said referring to his statement that youth should be given a chance to lead the country instead of the elderly.
Fazl called for promoting reconciliation and harmony in order to avoid confrontational politics during the election campaign.
He also advised against casting aspersions on the transparency of polls saying that the country cannot afford the disputed elections.
The JUI-F said his party has decided to work together with PML-N in the future and would also enter into seat adjustment with its ally.
Political activities are on the rise in the country after the Election Commission of Pakistan (ECP), following the Supreme Court's intervention, announced that the polls in the country will take place on February 8, 2024.