Read out the complete details about Before the T20 World Cup down below…,
Before the T20 World Cup in Australia, the Pakistan cricket squad will go to New Zealand to play a T20 triangular series with Bangladesh and the host country. The New Zealand Cricket team has declared and confirmed that the series would be played in Christchurch from October 7 to October 14, 2022. On October 7, Pakistan will play Bangladesh in the first game of the three-team series. On day two of the competition, Babar Azam's team will play New Zealand. The green shirts will play the black caps again on October 11 in their second league match. On October 13, they will play Bangladesh. On October 14, the final will be held.PCB announced that the Pakistan team would leave for Christchurch on October 4, after the seven T20I matches against England at home have been played. The last game of the series versus England will be played on October 2.
Pakistan's captain, Babar Azam, is pleased about the possibility to play in New Zealand before the World Cup in Australia. He thinks that this will help Pakistan finish getting ready for the tournament. I'm delighted we'll be playing in the tri-series in New Zealand because it will help us get there early and not just get used to the weather for the T20 World Cup in Australia, but also complete up our preparations," he said. In a statement made by the Pakistan Cricket Board, Babar said, "I missed the last series in New Zealand because I damaged my thumb. I am delighted to play cricket at Christchurch against two talented sides."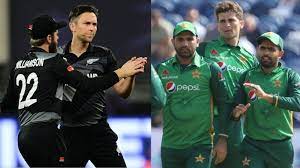 Gulfishaa is writer who delivers engaging and informative news on sports to readers of Ten Sports TV Website.