WWE Star Austin Theory
Not Trying To Be The Next John Cena
'Don't Want To Be A Rip-Off'
3/29/2023 12:15 AM PT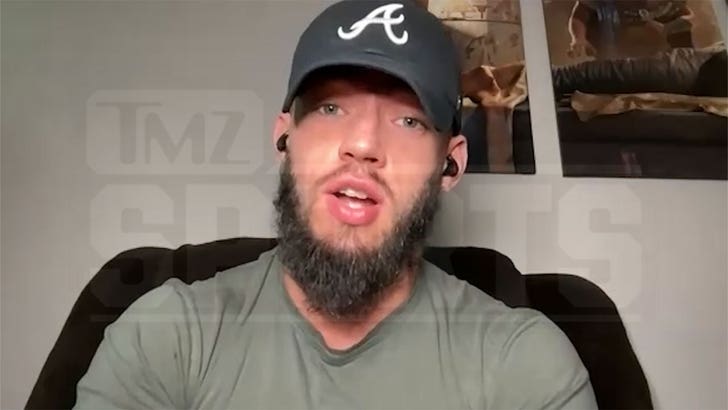 TMZSports.com
Austin Theory is fighting his childhood idol, John Cena, on "The Grandest Stage of Them All," WrestleMania, but the current WWE United States Champion wants everyone to know he's not trying to be a Cena 2.0 -- telling TMZ Sports, "I don't want to be a rip-off."
We spoke with Theory ahead of his highly-anticipated match with Cena for the U.S. title at 'Mania ... and he put into perspective what the moment means to him considering John played a role in his desire to be a professional wrestler.
"Being eight years old and knowing what I wanted to do for the rest of my life because of John Cena and that is be a WWE Superstar. That was the first time I seen wrestling and I was inspired. And I went straight to the TV and I'd watch John every single week."
Theory and Cena made their match for the U.S. Championship at WrestleMania official two weeks ago ... during an intense segment where the latter reminded the WWE Universe that he can still cut a promo with the best of them.
"We did have a moment," Theory said about his encounter with Cena. "A face-to-face on Monday Night Raw. He had a lot of things to say to me. In that moment, it's very cool to be out there with John Cena but I'm in a different place now."
Austin told us he's tired of people constantly comparing him to Cena -- a 13-time WWE Champion, widely recognized as the G.O.A.T. in the promotion's history -- especially after he's worked so hard along his journey to establish his own identity.
"I don't want to hear that anymore," Theory said. "I want to be the first Austin Theory and I want people to see that. I don't want to be a rip-off of anybody and at WrestleMania, I'm going to show everybody just how different Austin Theory is."
"My mindset going into this match is all about me," Theory said. "I can't go in there and get swallowed by this giant John Cena story. I know the crowd's going to be crazy for him. 'Let's Go Cena' and 'Cena sucks.' Even the people saying 'Cena Sucks,' they love him, too."
Theory said after he retains his U.S. title by defeating Cena on Saturday at SoFi Stadium, he's "going straight to the top" ... adding "The world is mine. That's where I go. Take over the world."