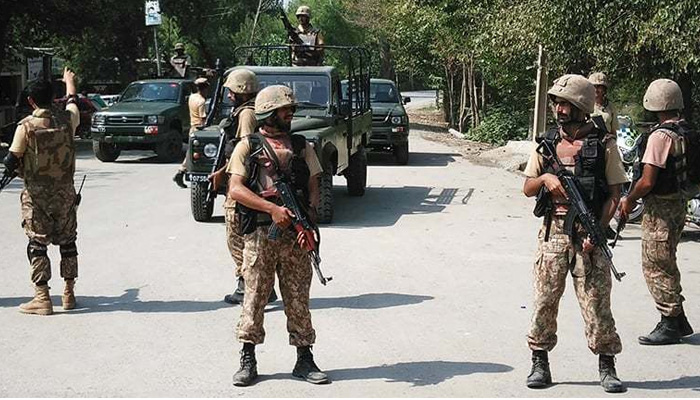 RAWALPINDI: Four soldiers were martyred during a clash with terrorists from the outlawed Thereek-e-Taliban Pakistan (TTP), the Inter-Services Public Relations (ISPR) said Friday.
The standoff took place when terrorists tried to infiltrate Pakistan from Afghanistan at 5:45pm (PST) on September 28, a statement from the military's media wing mentioned.
The forces were able to thwart the attempt, but four soldiers — Havildar Sattar, Lance Naik Sher Azam, Lance Naik Adnan, and Sepoy Nadeem — embraced martyrdom after having fought valiantly.
The soldiers also sent three terrorists "to hell", the ISPR said, noting that "few" other militants were also injured during the gunbattle.
"Security forces of Pakistan will continue to thwart efforts of the enemies of peace and prosperity in the country," the military's media wing added.
Earlier this week, security forces killed three terrorists during an intelligence-based operation (IBO) in the general area of Tirah, Khyber District, following an operation on the night of September 25-26 after receiving reports of terrorists' presence in the area.
Last month, Chief of Army Staff (COAS) General Syed Asim Munir said that Pakistan was acting as a bulwark against terrorism and the international community must realise the immense sacrifices rendered by the country.
A day earlier, the Voice of America (VOA) reported that the interim Afghan rulers arrested 200 suspected militants involved in attacks against Pakistan, after Islamabad accelerated its efforts to counter cross-border attacks. The VOA report cited Pakistani officials privy to the development.
The report said the Afghan rulers have also implemented other "concrete steps" to "neutralise" the terrorist activity.
The details of the crackdown on the outlawed Tehreek-e-Taliban Pakistan (TTP) were shared in bilateral talks they hosted last week in Kabul with a high-level delegation from Islamabad.
The talks took place after four soldiers embraced martyrdom while repulsing terrorist attacks on two Pakistan Army check posts located near the Afghanistan border in the general area Kalash, District Chitral, the Inter-Services Public Relations (ISPR) said on September 6.
"On 6 September 2023, a large group of terrorists equipped with the latest weapons, attacked two Pakistani military posts located closer to Pakistan Afghanistan border in general area Kalash, District Chitral," a statement from the military's media wing read.